Dubai Sugar Conference 2019
February 10

-

February 13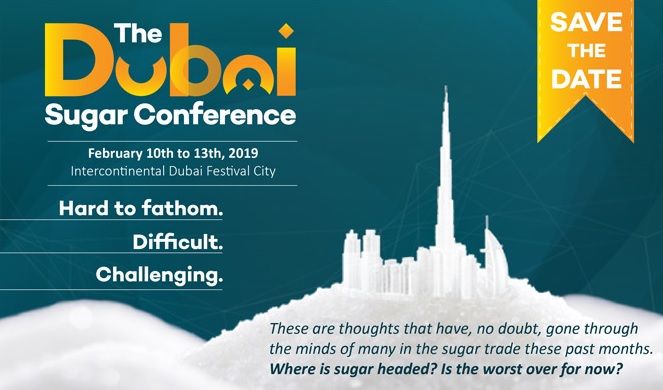 The Dubai Sugar Conference 2019 will be focusing on key issues confronting the industry at this time.
The market has plumbed depths not seen for ten years, with mounting global surpluses. The media's war on sugar has continued to rage, spurring government taxes on consumption across many countries and slowing overall growth. After the extreme challenges faced by all producers and traders the past 36 months, 2019 is expected to bring some relief. However, there are probably more unanswered questions today than ever before.
Indian policy initiatives continue to dominate the export scene – will the expected record five million tons subsidized export programme be followed by another generous scheme? How will the government's desire to grow farm incomes be reconciled with the need to curb cane production? Will the other major exporters challenge the export subsidies in time to limit cane planting in 2019? How willing is the Indian government to finance similar-sized programmes in future? And finally, how much work can ethanol do in India, Brazil and Thailand to absorb all this surplus sucrose? Significant policy issues lie ahead…
The shine has come off the EU's export plans and the industry is struggling with losses. In a no-quota environment, will EU farmers continue to plant enough beet to support export or even domestic sufficiency?
Brazil has swung production to ethanol at an accelerated rate, as the industry cuts production and exports by 8-10 million tons, in a bid to stay solvent. Ethanol consumption has soared, but will this continue in 2019? Election fever grips Brazil now, and India in the spring of 2019, while currencies of both countries look vulnerable… what will be the likely outcome and impact on exchange rates?
Thailand surprised the world in 2018 with record production, which may be repeated or exceeded in 2019. This does not look to be the case with the FSU and the verdict is still out on whether production cuts can outweigh the Indian and Thai efforts.
Ethanol and sugar taxation policies will play a bigger role than even recently and the sugar world will have to consider its response to these developments.
Add to this a volatile geopolitical environment coupled with the knock-on effects of trade wars and the stage is set…
We will debate all this and more at The Dubai Sugar Conference 2019.
The 2018 edition of the Conference was a great success, with generous support from our valued sponsors. With 700 participants from nearly 60 countries, the industry was significantly richer for the insights and connections that the Conference delivered.
The Dubai Sugar Conference 2019 will, once again, be hosted by global sugar industry figures Jamal Al Ghurair from Al Khaleej Sugar and Jacob Robbins from Emeterra. Jonathan Drake will continue to provide us with the benefit of his experience and guidance.