The key to happy customers in the world of commodity trading is a happy team. A skillful, but happy team. And sure, you will also need a well-thought-out strategic plan.
At Agiboo, our Lead Development Manager came up with a promising product delivery strategy once, which we still reflect on quite often. We've defined our actions to strengthen our customer-focused culture, and made a short list of top responsibilities that any CTRM solution provider for the commodity industry should adhere to. We'd like to share them.
Over the years, we've come to recognize that our long-term success has gone hand in hand with the success of our customers. For this very reason, we believe that Agiblocks can bring a strategic advantage to our customers – because delivering a state of the art CTRM that innovates, renews and adapts continuously whilst being a robust business platform that keeps customers old and new satisfied with our product is non-negotiable for us.
2) Enforcing our Architecture
If you're planning to build something that lasts, whether it's a tunnel, a bridge or more of a digital infrastructure, your first priority should always be to bring in an expert to develop a strong architecture plan. That's just as true for software.
To offer a smart, powerful and resilient commodity trade and risk management solution, we rely heavily on the strong architecture of Agiblocks, utilizing all the latest technologies and insights, and continuously following CTRM industry standards and best practices. Agiblocks is fresh, innovative and future-proof – it ticks all the boxes. It's the way ahead if you're looking for a stable and cost-effective solution. Check it out for yourself.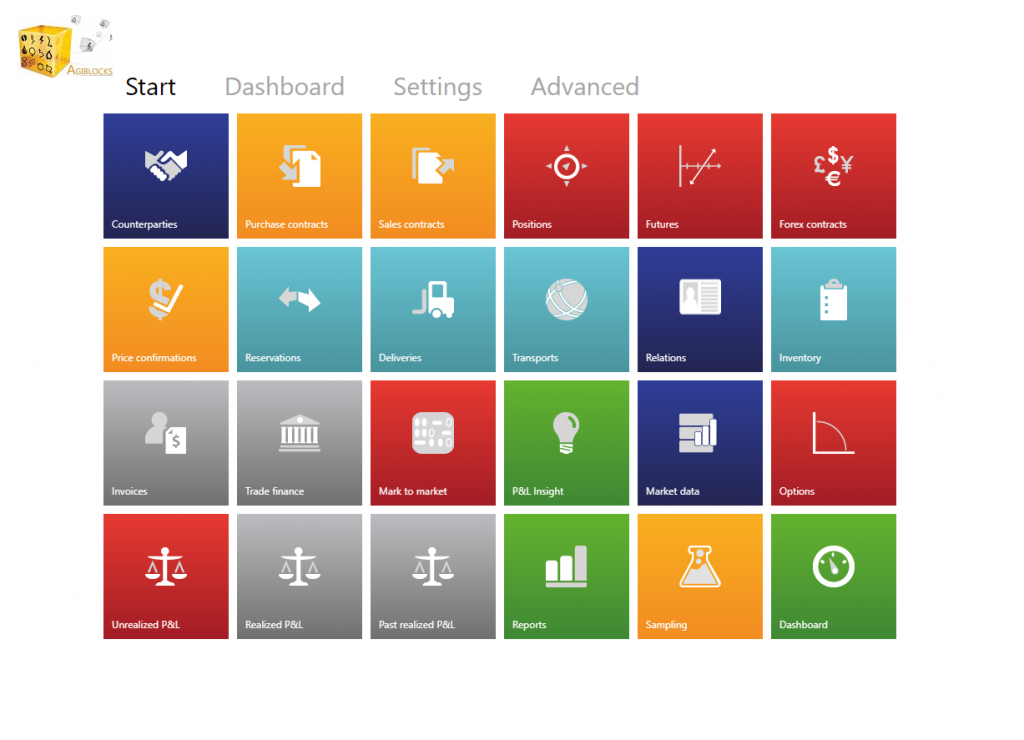 3) It is all about product quality
Product quality has always been our top priority. Specifically, our goal in product quality is to extend our testing capacity. We are also extending automated user interface and user experience testing as well as automated integration testing to ensure functionalities work as expected. It reassures Continuous Delivery of our unique CTRM solution in the future. What's more, the adoption of a Continuous Delivery approach helps us deliver new functionalities faster than ever. Because we know the technology factor is important.
4) Optimization of the development process
The world of commodity trading is fast-paced and unpredictable. Luckily, we are ready and able to overcome any challenge. To succeed in doing so, we are continuously optimizing our software development process. In this way we increase our productivity. Additionally, we're always initiating the next step in sharpening our tech skills and domain expertise in CTRM.
As a result, our software is continuously being upgraded. We have commodity trade in our hearts and understand that technology – having new and innovative features – is an important part of choosing a CTRM solution. We've got you covered – from the latest tools and functions to assisted integration, fueled by industry-leading partnerships.
Agiboo has a dedicated 3rd line support team. It ensures all of our clients and users can continue working with Agiblocks uninterrupted, with new team members bringing fresh skills and insights to enrich product functionality and deliver on ever-changing user needs. Last but not least, we have extended our development capacity to reduce time to market of any new functionalities. You can always stay up to date by checking out agiboo.com/news.
The best way to understand all that Agiblocks can do is to see it in action. If you would like to request a demo or any additional information you might need, please find us at info@agiboo.com or +31 (0)36 52 13131, or leave your details at agiboo.com/demo.