Agiboo is continuously extending the functionality of Agiblocks Commodity Trade and Risk Management (CTRM) software. Every 4 – 6 weeks a new release is made available with new features and functions to support the commodity trade industry.
Agiboo is happy to announce the newest release of Agiblocks CTRM Software with a series of new advances and more improvements. The version was released in December 20, 2017.
On a glimpse
In this version, 3.23.0, several improvements and changes have been introduced. Position rolling functionality for stock is the new add on. Enhancements have been made to the existing Position bulk rolling feature (for forward contracts), a change to the Markets Tab on the Position screen and few other advances.
New features and changes
Position Rolling for stock
This release will now also support batch rolling the valuation periods of inventory assets, both stock and floating. You will be able to view, filter and select every asset of type stock or floating; these are the same assets as are shown in screens like Mark to Market, Position details, and Result per Contract. Assisted by multiple filters you can easily select the contracts, stock and floating quantities you want to roll to a different valuation period.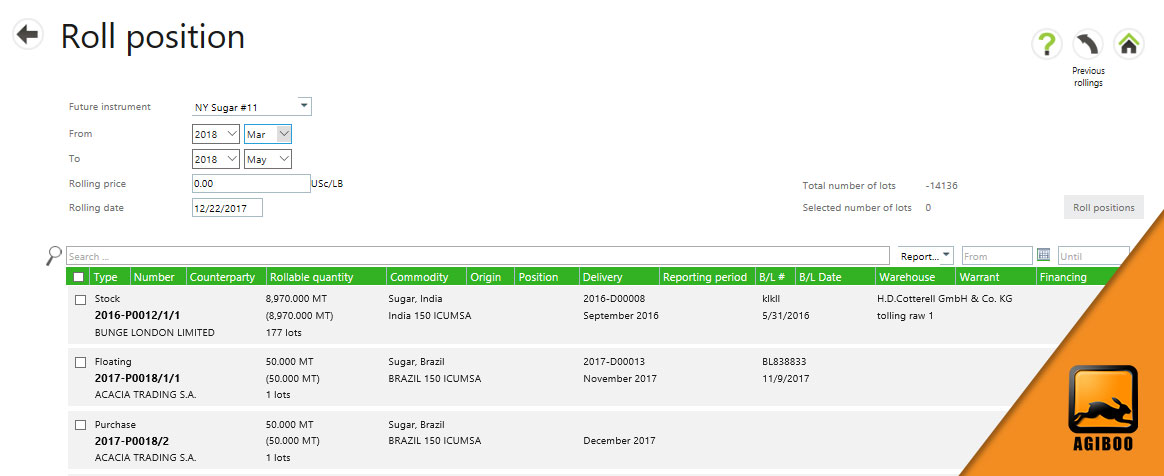 Stock Valuation
Now you are in control over the valuation of your inventory.

Position Rolling Screen
More improvements for finding Assets in the Position Rolling Screen:
More information has been added in each row
Sorting capabilities have been added
Extended search capabilities including a general search box.
Position Screen Markets Tab Change
In version 3.23.0, the Markets Tab on the Position screen has been improved to better reflect market exposure.
We are more than happy to welcome the new year of 2018 with significant changes and improvements for Agiblocks. Agiboo team is working hard to offer you more software solutions for your commodity trade environment. Our aim is to provide you your "best friend" in your daily commodity trade transactions.