The ongoing development of Agiblocks throughout the years is as much reliant on our successful partnerships as it is on our internal R&D and innovations. As such, it seems just about every other Agiboo-update is one in which we share a new partnership that we've sought out to improve upon the functionality of our flagship CTRM solution. And guess what? This post is no different. So, let's start 2023 with a banger, shall we?
'Loqsea in a nutshell?', we asked newly-appointed director James Taylor. "It is a uniquely unified and integrated software solution, front office, for CTAs and physical traders that hedge on the markets." Of course, we'll expound on that, but let's start at the beginning.
Loqsea is a technology company that provides SaaS and development services to the financial and commodities industry. Its roots go back to about a decade ago, when an initial version of the software was released that was primarily focused on oil derivative products. When UK based commodity investment managers started using the solution, it allowed for continuous improvements to the program. Fast forward to the present times, where Loqsea acquired new customers in trading and fund management through new and improved functionality – including integrated systematic trading execution in FX, index, soft commodities, precious and metals alongside the existing prowess in oil. Now, at the beginning of a new year, Loqsea will re-launch with new management with decades of experience in the commodity industry, to deliver a properly unique solution.
"I've known Jan [van den Brom, Agiboo managing director] for more than 25 years", says James Taylor. "We've worked together a long while back, even before Agiboo too. It's almost impossible not to run into him in the commodity industry."
James has worked as a CTRM consultant for decades, specialized in anything from back-office solutions to futures and options and physical trading. "All in all, I've been working in commodities for about four decades." Given all that experience, the fact that James has now found a truly unique solution to benefit physical traders that hedge on the markets is saying quite a lot. "The attraction for physical players is that many of them have fragmented solutions, or even time-consuming manual solutions, for futures trades. With Loqsea, we can provide live, real-time profit and loss statements and live margination, which allows you to properly anticipate margin calls – and act accordingly."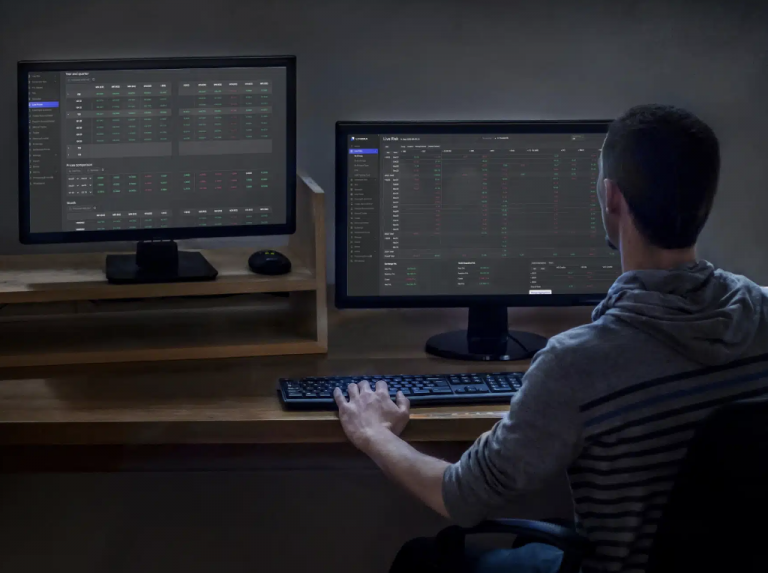 Real-time risk management
Loqsea offers an electronic trading front-end, that can automatically feed live data to Agiboo for Agiblocks to process. We will enter into a partnership that adds the skills of the solution to the Agiblocks dashboard. "The major difference is that you have to key in the trades manually, but with Loqsea it's already there, with all the P&L calculations as well. It allows for a real-time update of your position and P&L"
It works the other way around as well. Some of Loqsea's customers have no CTRM back-end in place, but still work with Excel spreadsheets. For them, Loqsea offers a very attractive proposition, as all the processes are already done. But is adds another layer to the mutually beneficial partnership between Loqsea and Agiboo: customers of one can be introduced to the obvious advantages of the other. The combined package is very attractive indeed.
The word 'unique' gets thrown around a lot, but here we can honestly say that we have a smart software solution that as of right now, no one else offers. "Loqsea allows for real-time monitoring of positions and replications of broker statements, live, which no other solution offers at the moment." James goes on to explain what exactly makes Loqsea so interesting for risk-averse traders navigating the current waters of international uncertainty.
"Say for instance you have a credit line with a broker to manage your hedge position. If you go over that line, there are huge costs. In others words, it's best to find out when that margin call – the demand from your brokerage firm to increase the amount of equity in your account – is on the horizon as soon as possible. Because if a loss-making position is coming up, you might be able to move that into another broker with more credit line availability, or for instance by liquidating existing positions to generate cash. You can take action ahead of the game, which is hugely beneficial." Most systems run a risk management profile overnight, which means you'll find out your position in the morning and you probably can't properly act on it. "What Loqsea will do, as it is running in real-time, you are able to take preemptive action right away and avoid that call."
Especially in the current geopolitical situation, it's more important than ever before to have a steady grip on your position, as the markets are quite volatile. It's becoming more and more important to be on top of your risk profile. Loqsea allows you to do that. In other words, it's not only a unique partnership, but also a unique solution. "We'll be working with Jan to implement our solution within the Agiblocks dashboard."
Jan is very much looking forward to the partnership as well. "Execution and CTRM registration of trades have been in the past always two separate processes, but now it is possible to combine the two, opening the door to real time position management", he says. It's a must have in volatile markets!"
"Development of software solutions is dynamic, always", says James, "especially in our industry. CTRM solutions are complicated. Even if everyone is doing the same thing – trading commodities and hedging risks while doing so –, their approach is always different. Administratively, but also from the perspective of management style. You're never done with developing. Agiboo gets that. We feel Agiblocks is future-proof for years to come, thanks to a modern development stack that is continually upgraded. At Loqsea, we've just shifted to .NET 6 and we'll be working hard on new functionalities too, as we're looking to add automated settlements and value at risk within the coming months. When future trades come up to maturity, they settle and get paid for. We are about to automate that as well."
There is no other solution like Loqsea, so the opportunity is now.
Would you like to know more? Feel free to contact us!