The retrospect of 2017 in soft commodity trade gives discouraging results in terms of the soft commodity prices in the market. Soft commodity prices were notably weak. Looking ahead in 2018 we hope for more changes.
Agricultural commodities can be very interesting to trade, and traders should consider new actions for the New Year ahead. As a matter of fact, success doesn't come as a "God's gift" to any company. You constantly need to plan and reposition according to the market terms and changes.
There is always the weather obstacles which could affect production of soft commodities and of course the price, as Rabobank notes in their 2018 Outlook. Moreover, JPMorgan says that, even though overall commodities will face another poor performance this year as well, there is the light of improvement for agricultural commodities.
Yes, these are all good. But speaking about opportunities and trends, which commodities could highlight a successful road for 2018? Where should I invest?
Corn
The volatility in the corn futures market seems impressive for the last years and it gives an optimistic attitude for new trading opportunities.
Rabobank expects an improvement in corn prices from recent lows, as global stocks continue to fall for a second year. We also expect the tightening of the corn market among others. This is because of the problems appeared in production after La Nina. Corn became more sensitive in price and production.
Corn could possibly turn into a trend, because of the increased demand for the production of ethanol. Sorghum has been produced in lower levels the past year and this led to the inclining use of corn.
By checking the graph below, we also notice historically the intense volatility of corn price for the last 10 years. Something which gives more opportunities for profitability to traders.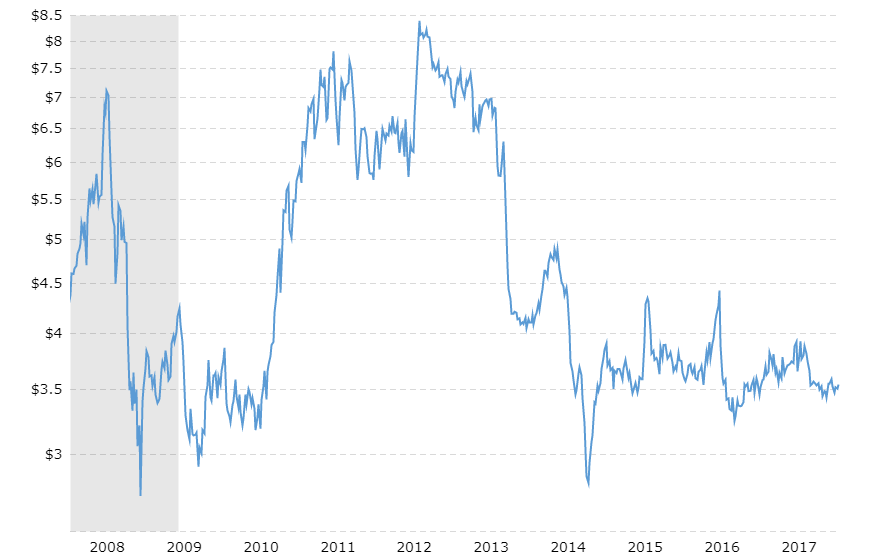 Wheat
Recently the futures of wheat are improving after the continuous downtrend for most of the year. JPMorgan mentions as well that traders should go long on Kansas wheat among other agri-commodities, like sugar.
Rabobank forecasts marginal price strength for CBOT wheat futures in the 12-month period albeit below the forward curve, since the exportable world stocks dissolve for the first time after 6 years.
The global wheat market stays well supplied with the impressive 270m tones of ending, stocks forecast in 2017-2018. Moreover, excluding China from this, stocks will remain unchanged year on year in 2017-2018.
There is also the expectation high from Rabobank regarding US growth. They expect a marginal 3% improvement in 2018-2019 acres, which is predominantly led by more spring wheat acres, given the supply tightness for high protein wheat (red spring and durum).
Where should I invest this year?
Traders need to reevaluate their plans if they want to make profitable decisions for 2018 year.
Bloomberg in their Commodity Spot Index show 5% increase in performance, without accounting for rolling futures contracts.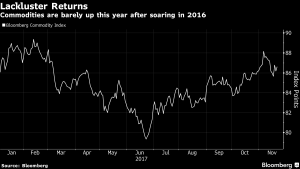 When you want to make money, you need to be careful in which assets you select, like for example agriculture and play short-term trends. This way you benefit from price swings, instead of buying and keeping a broad basket of commodities. This is also what analyst John Normand suggests and Bloomberg includes in their article.
In a general analysis, there is a light in the horizon for opportunities in the agricultural market. Producers can lock a price higher for certain agricultural commodities when they will sell it in the future. Moreover, buyers can also take advantage of the low prices and in this way perform better hedging strategies.
At the end of the day, taking the right initiatives to start the new year of trading, is really one of the first things in your agenda. Take some notes. Choose your assets. Define your targets and strategy. Start trading. If you also need to improve your work efficiency, add then a commodity trading and risk management tool in your business shopping list for 2018.
Any opinions, news, research, analyses, prices, or other information contained on this website and in the article is provided as general market commentary, and does not constitute investment advice. Agiboo BV will not accept liability for any loss or damage, including without limitation to, any loss of profit, which may arise directly or indirectly from use of or reliance on such information.