7th Kingsman EU Sugar Seminar 2017
April 24, 2017

-

April 25, 2017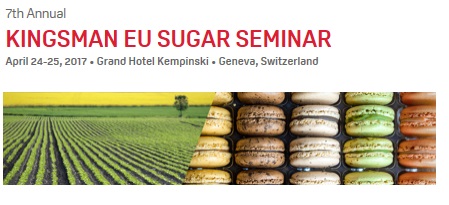 Returning to Geneva on April 24 & 25, the global sugar industry will descend on the Grand Hotel Kempinski prepare as we prepare for the end of the EU quota system this coming October, the uncertainty for what might happen for the EU and global markets still remains high – are you ready?.
– Essential intelligence – have your key questioned answered
– Join influential producers, traders and international experts from across the international sugar value chain as they evaluate the post quota world; assess regional fundamentals changes longer-term and debate future threats and opportunities for the industry.
– Understand the evolving sugar trading landscape and what it means for you
– Hear international sugar trading experts discuss key market developments affecting trading, risk and pricing in the sector, including the latest market movements and price trends, futures evolution and new risk practices in this volatile time.
– Discover new connections, new ideas and new business opportunities
This seminar helps 200+ producers, refiners, traders and buyers understand trends, risks and issues within the EU sugar industry from those at the forefront. Network and do business easier than ever before.
Meet Agiboo to experience how Agiblocks CTRM can support you in the sugar industry.