Agiboo participates at CTRM Conference in London on October 27,2016
October 27, 2016 @ 8:00 am

-

5:00 pm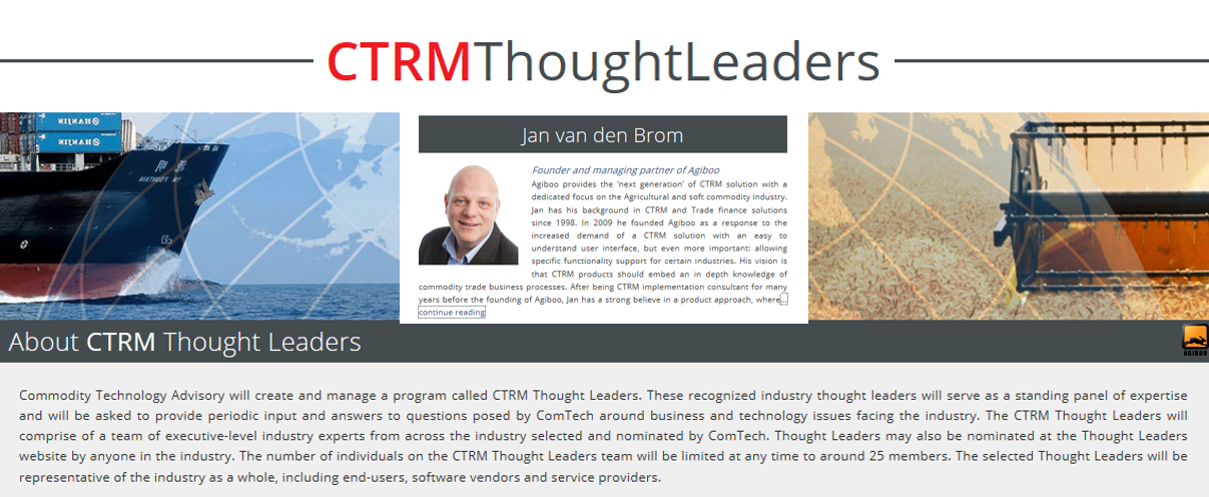 Do not miss a unique chance to meet Jan van den Brom  – Founder and Managing Partner of Agiboo at CTRM Conference in London on October 27th,2016.
The CTRM Conference is a 1-day event that is focused on the $1.6billion CTRM software category to be held at Thistle Marble Arch Hotel, London on October 27th,2016.
The conference brings together end user, service practitioners and vendors to spend a day focused on some of the key issues and trends impacting the software category.
Agiboo provides the 'next generation' of CTRM solution with a dedicated focus on the Agricultural and soft commodity industry. Jan has his background in CTRM and Trade finance solutions since 1998. In 2009 he founded Agiboo as a response to the increased demand of a CTRM solution with an easy to understand user interface, but even more important: allowing specific functionality support for certain industries. His vision is that CTRM products should embed an in depth knowledge of commodity trade business processes.