Chocoa conference 2018, Good cocoa, better chocolate
February 21, 2018

-

February 25, 2018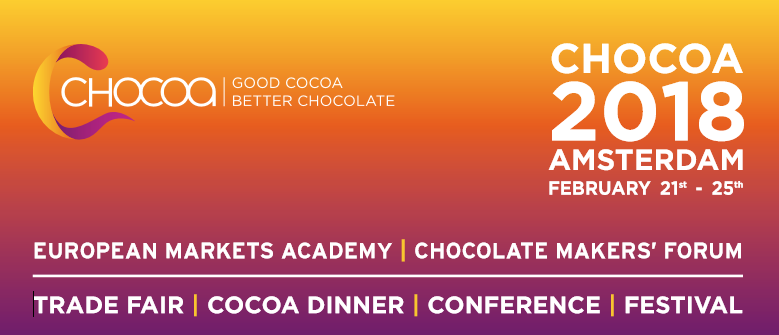 The 6th edition of Chocoa will take place from February 21nd until 25th 2018 in Amsterdam. Chocoa brings together stakeholders from the entire supply chain, from cocoa farmers to chocolate consumers. Our objective is to increase the market for 'good cocoa and better chocolate'.
Chocoa's main objective is to facilitate international trade in sustainably produced cocoa and cocoa products. Join the European Markets Academy for a full day of lectures on requirements for successful operations on European markets as well as visits to cocoa companies in the port of Amsterdam. From customs and health regulations to preparing for matchmaking at the trade fair, the programme provides a solid preparation for your exports to the European market. Meet Agiboo at the Chocoa conference 2017 to see a demonstration of Agiblocks commodity trade and risk management and its support to the cocoa trade industry.
Chocoa facts:
•  10.000 visitors for 5 days of events attracting stakeholders from the entire cocoa supply chain including cocoa producers, chocolate manufacturers, trade and industry, governments, NGO's,
financial and logistic services suppliers and consumers;
• 150 booths of cocoa, semi-fi nished products, chocolate and service providers;
• Workshops, tastings, presentations and seminars;
• Debates on sustainable cocoa production and chocolate consumption ;
• Media campaign 2017 boosting a value of €1,2 million and a total reach of over 18 million people including 7,2 million online.