ECA European Cocoa Forum 2016 in Dubrovnik
September 15, 2016 @ 8:00 am

-

September 16, 2016 @ 5:00 pm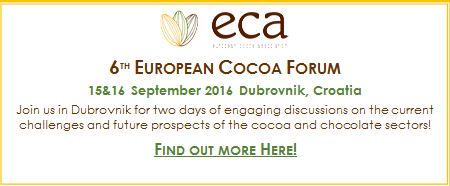 The European Cocoa Association will hold its sixth ECA European Cocoa Forum on 15 and 16 September 2016 in Dubrovnik, Croatia.
Join us in Dubrovnik for two days of business sessions and networking. This year's edition will cover a variety of compelling topics for the cocoa sector and beyond:

* What are the prospects for cocoa and chocolate in Central and Eastern Europe?
* Climate change impact – what should we expect? How can the cocoa sector mitigate consequences? What innovative approaches exist?
* Cocoa tasting and testing session
* Cocoa research: How can we better match scientific research and industry expectations?
* Regulatory concerns for the cocoa sector and potential impact on business operators
* What does innovation look like in B2B and B2C markets?