Exciting times at Agiboo. We're currently gearing up for 'Agiblocks 4.0', which we'll be addressing in a lot more detail somewhere in the coming month – so stay tuned! For now, we'd like to tell you about an interesting read our good friend Gary M. Vasey (CTRMCenter) shared with us: a book called 'CTRM Software – An Analyst View of a Dynamic Software Market', which he has written together with Patrick Reames.
The book, for which Patrick and Gary (who you might also know as hosts of the fresh CTRMRadio podcast) have combined their numerous decades of experience in our industry, is the ultimate guide to Commodity Trading & Risk Management Software. 
CTRM Software – An Analyst View of a Dynamic Software Market
What is CTRM software? How is it used? Who uses it and why? What is the future of CTRM software and much more. "We hope the book will provide newcomers and veterans of the industry some food for thought ….. and that those who read it find it of value", says Gary. It is available on Kindle as well as in hardback and paperback versions.
If you are a buyer, user, consultant and vendor in the space, this book is essential reading. It will guide you through the definition of the software category, its origins, history and evolution and much more. It is a quick read and a very good guide for anyone looking for information about CTRM software and how to implement it – and of course Agiblocks is featured as well. | You can now find it on Amazon.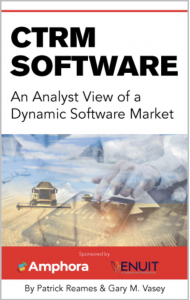 Commodity knowledge is essential to commodity trade. In our Commodity Knowledge Center you'll find articles, resources and video tutorials. Head to agiboo.com/commodity-knowledge-center if you want to know more!