Agiblocks. What is it? What does it do? Why should I get on board? Great questions – with even better answers. We'd like to give you a brief yet comprehensive overview of all that our CTRM software solution has to offer in one 5-way answer to the question 'why should I choose Agiblocks – right now?' So here are the 5 reasons to choose Agiblocks!
1. Complete commodity business management
Agiblocks provides all functionality for trading physical agricultural commodities and their terminal market instruments. It supports contract management, logistics, forex and hedging and has powerful tools for real-time risk analysis and management. Our intuitive dashboard combines a detailed and fundamental understanding of the commodity business and risk management processes with an agile information technology architecture, enabling users to successfully manage all their daily commodity trading and risk management needs.
Our software is easy to install, simple to maintain and integrates well with existing systems or IT-platforms. On-premises, Cloud-hosted or SaaS. The design of our software offers a clean and simple user interface, with fast access to all the vital functions for any given task, while our technological innovations and unique industry-specific functionalities guarantee all the information you need is just a single click away – anytime, anywhere.
2. Fast, accessible and scalable with huge integration advantages
Agiblocks supports trading as well as financial management from the same source of data and within the same, fully web-based application – accessible anytime, anywhere on any device with a browser. Its modular structure however is also designed to fit any and all company sizes, allowing implementation on the basis of desired necessity – from just the functionality you need to a full end-to-end solution.
"It sounds kitschy, but if you talk to someone who knows what you are talking about, that is always a relief", to quote one of our clients in the cocoa industry. "To the big IT service providers, we are but a number. But talking to Jan, we felt he knew how the industry really works, how the company works, and moreover what you need as a trader in general, and a cocoa trader specifically – the physical trade, the terminal market, and currency, and so on. It was the perfect fit, and the level of integration is amazing." | You can read the complete interview here to find out more about our prowess in integration.

3. Industry-specific solutions
Speaking of offering what the industry needs, Agiblocks is not just the next generation of CTRM systems, but a solution that truly meets all technical as well as business needs for anyone working in the trade business. We take pride in the fact that our software matches all the intricacies of the industries it intends to support. A true multi-commodity system right out of the box, not limited to a particular commodity and built on modern technology.
The key objective of Agiblocks has always been to make a trader's daily endeavors more efficient – from drafting a contract, setting prices and handling logistics to evaluating risk and adjusting your current position. We have commodity trade in our hearts and understand that technology – having new and innovative features – is an important part of choosing a CTRM solution. We've got you covered – from the latest tools and functions to assisted integration (including custom connectors), fueled by industry-leading partnerships.
Agiblocks offers:
Multiple entities & intercompany trade, multiple trade books
Physical contract management for bulk, break bulk, containers, parcels
Flexible position management (origins, specifications, premiums, certifications)
Mark to Market valuation by position/parities/premiums and cost
Hedging & derivative management (futures, options, OTC, forex)
Cross markets (futures/forex) and/or ratio pricing, hedging, hedge allocation
Logistic management (documentation & freight), physical inventories, sampling
Financing & collaterals, invoicing, cost accruals, profit & loss: unrealized / realized
Flexible reporting, document management, quality and trading dashboards
General Accounting API, IFRS 15 & IFRS 9 compliant
We know that technology has become a huge part of the selection criteria again, rapidly become a high-priority item. Buyers know exactly what technologies they want. That's why we make it a point to offer the latest in features – such as OTC and What If-Analysis in the risk management sections of our dashboard. Our software is continuously being upgraded.
Would you like to know more? Then please visit our Knowledge Center, our check out the series of Agiblocks Tutorials we've started on Agiboo's YouTube. Our videos, or Agiboo Masterclasses, should tell future customers everything they need to know about how the product works. Moreover, it helps our current clients by providing a convenient and practical knowledge base to use as an instruction manual during implementation processes. | You can find the very first episode here.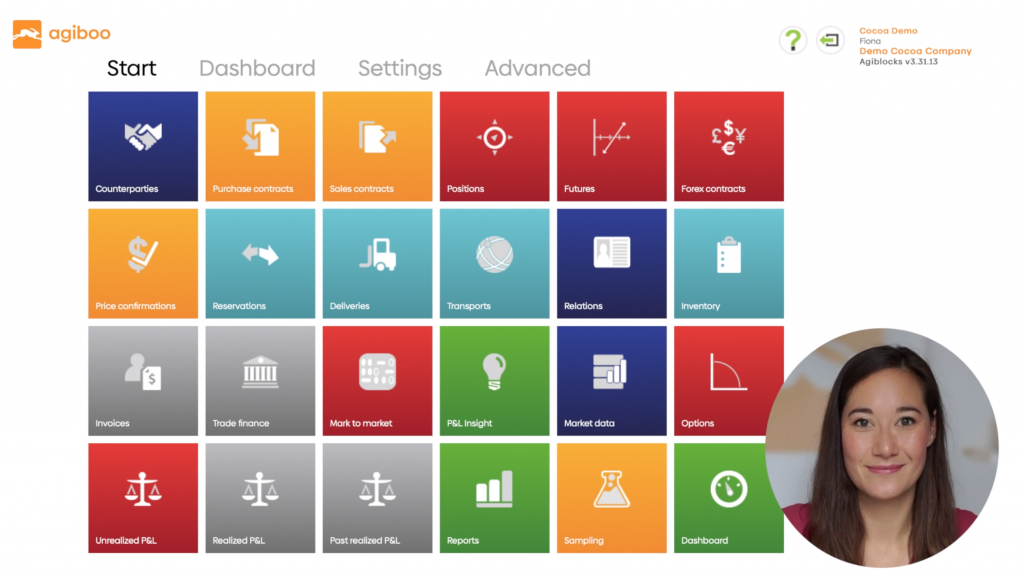 4. Full control
Agiblocks provides detailed insight in your commodity trade chain and offers full control of every aspect of your business operation. Within a single, consistent environment offering customizable configuration, our software enables you to drill down in your trade book, your logistics chain or financial documentation and allows you to act quickly and easily if need be. It also keeps a full audit trail of transactions.
There has been a trend towards greater flexibility in CTRM software solutions for a while now. Not too long ago, only the big firms could have it all in terms of scalability and flexibility of software solutions, as they had the time and resources to build their own platforms. Thanks to the modern approach of CTRMs as an ecosystem as well as the availability of cloud service, those previous luxuries are now commonplace.
Agiboo has decided years ago to migrate CTRM architecture to easily accessible cloud services, while platforms on client/server or Java.net need to seriously rewrite their software to keep up with the times. The system architecture has been developed in a specific and flexible technology stack to allow superior performance in both a hosted environment and a traditional on-premises arrangement. You are in control.
5. Number 1 in Sugar, Cocoa, Coffee and Grains & Oilseed
Commodities in general can be divided into three different groups: Agricultural, Metals and Energy. When thinking of 'commodity trade', the mind easily goes to petroleum, gold, precious metals and, basically, any of the commodities that are either Metals or Energy. But agricultural or soft commodities are something to be desired as well. Indeed, the industry has experienced boosts in interest due to investors looking to diversify their portfolio of stocks and bonds. For traders, even the smallest percentage of any soft commodity will lead to a reduction of both volatility and risks. The top five of soft commodities in terms of annual consumption is made up of cocoa, coffee, grain, sugar and cotton. Agiblocks covers all five, of course – but has four of them listed as Specialized Commodities to boot.
Our CTRM offers unique features to cater to all their complexities – from origins, grades and unique conversions to certifications and exchanges – that are either not supported in a generic CTRM solution, or would require time-consuming work-arounds.
Agiblocks is the go-to solution for any commodity, but support for our 'specialized commodities' – Sugar, Cocoa, Coffee and Grains/Oilseeds – is unrivalled. So much so, that we've written an extensive whitepaper about it.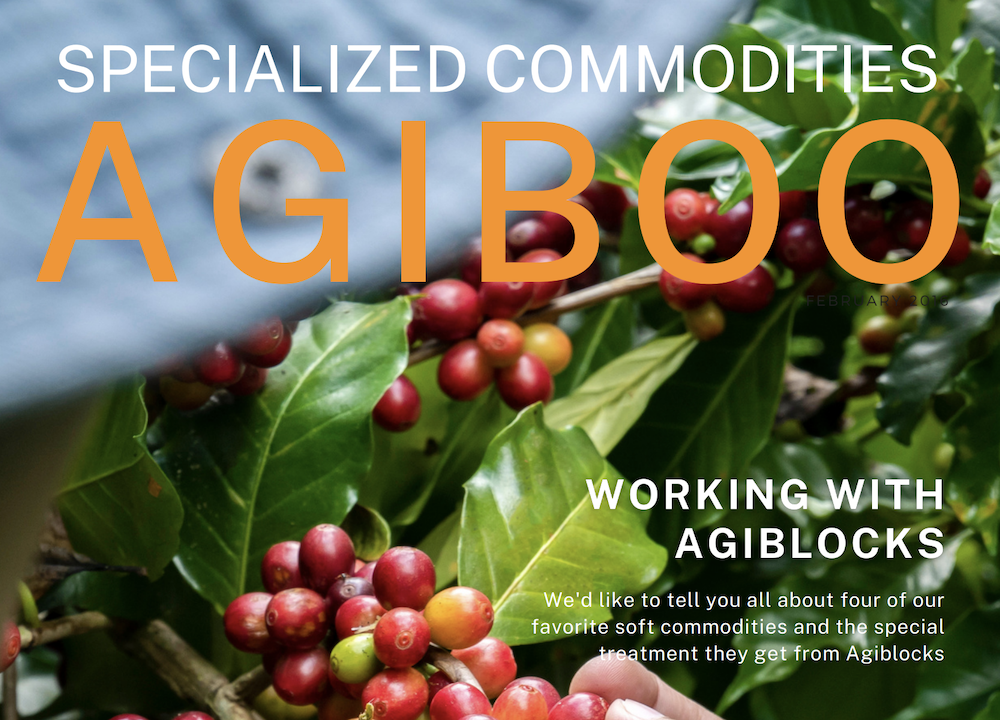 Agiblocks: a truly unique CTRM platform
We explained all the reasons to choose Agiblocks. But, what now?

You can download our Agiblocks product sheet with an overview of all the functionalities and specifics. Or, you can immediately request a free demo with our CEO, Jan van den Brom.

"Imagine a world where you could trade commodities and manage your risk, any time and any place, with just a single click." 
Download our Agiblocks product sheet here!