Last month, we've shared a hint of some interesting news on Agiboo's horizon: the impending launch of a brand-new version of our software this summer. Our development team has since made huge strides to finalize their collective efforts to now bring you Agiblocks 4.0. What can you expect from the latest version of our flagship CTRM solution? Let's dive into it with Joep Wijers, managing partner, CTO and co-founder of Agiboo. 
"Initially, we had planned a big[ger] release for our new features as they represent quite a big step forward in the development of our software. However, over these last few months we've already been implementing our exciting new functionality for several of our customers, so it's time to bring our 'new' Agiblocks to the limelight: Agiblocks 4.0." 
Agiblocks has always been developed in one of the latest available software architectures, so you get to quickly keep up with developments. More importantly, embracing the latest technology allows us to offer fresh functionality and the new features we will discuss here.
The short version, Joep explains, is that we have made improvements to the workspace so that you can organize both the dashboard and your daily routine to your own taste. Most notably perhaps is the introduction of the Quick Launch Bar, that offers easy access to all the menus and submenus at the heart of Agiblocks as well as lots of freedom to bring those core parameters to your fingertips in a way that best suits your (or your company's) preferences. 
Additionally, we've introduced a functionality that allows you to bring in external content, allowing Big Wave BI to offer game-changing business analytics capabilities within Agiblocks using the Power BI platform. Last but not least, we're introducing huge improvements to the document trail front, that allow for easy and hands-on control of ongoing processes, whether it be for oversight and regulation or for a clear and quick understanding of the current status of any shipment or delivery. We'll take you through it. 
Agiblocks through the years
As we'd very much like to focus on the new features and the expanded capabilities of our software solutions, we won't bore you with a history lesson. However, it is worth noting that we've come a long way since the '1.0'-edition of Agiblocks, which was introduced well over a decade ago. We'll skip that initial version, which had a fair amount of the same layout, praised for both its intuitiveness and instant recognizability (not unlike Windows 8 and the later 10), but with less main navigation tabs and fewer tiles. Follow-up 2.0 introduced a lot of logistics and administrative strength surrounding logistics, from pricing and inventory to P&L, but in retrospect, '3.0' is where it really got interesting, says Joep. 
It was basically a revamping of the earlier versions, but with huge improvements brought on through customer feedback and our ongoing development and indeed enhancement of the software. Data enrichment, developed especially for large volumes, self-billing, full access in the cloud, OTC and What-If Analysis, the list goes on. It allows you to not only monitor and access changes that directly affect your portfolio, but also analyze what those changes mean – and act accordingly, in real-time, anywhere and on any device. 
We have customers that have been with us since the very beginning, but it is with Agiblocks 3.0 (and onwards) where you can find everything that truly makes it a next generation product in CTRM software solutions. What does that mean? Well, among other things, detailed insight into and full control of daily processes, complete and easily implemented commodity trade management and easy to use yet sophisticated risk management that combined allow for an optimal daily routine in the commodity trade industry, away from spreadsheet mania. In that sense, Agiblocks 4.0 is an ongoing development of an already fully rounded software solution, committed to the single goal of making the daily practices of commodity trading professionals more efficient.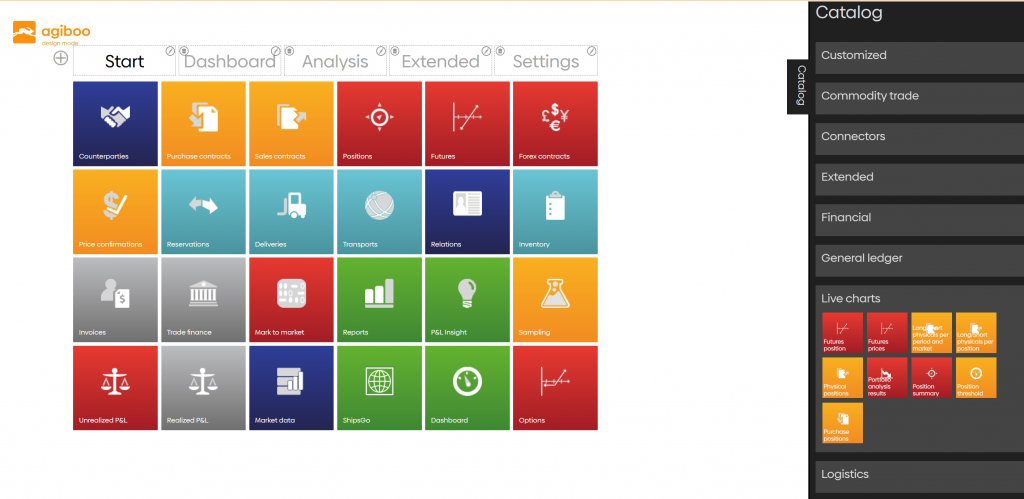 1. Organize your own workspace
Adding, (re)moving, resizing & renaming tiles: that is pretty much the gist of it. Or is it? Of course, the actual upgraded control users now have over their Agiblocks dashboard is a little bit more profound than that. Indeed, the tiles at the very core of the Agiblocks experience are at your service to enrich your workspace. You can fully rearrange the dashboard by adding or removing tiles and widgets that best reflect your daily routine and what it is you need to get out of Agiblocks. There is a new tile too, that allows for the import of external content into your dashboard, which we'll address under a separate heading (3) below. 
To get to most out of the freedom our Agiblocks dashboard tiles now offer, version 4.0 comes with a 'design mode' that allows you to make all the preferred adjustments while also tracking your changes. In fact, improving the dashboard and offering custom alterations to what is already an intuitive, easy to use panel was the very start of the development of 4.0. Now, you can also create custom tiles on Agiboo content, for example purchase contracts and open purchase contracts. Would you like an easily accessible overview of prices from a particular exchange? No problem. A tile that is not a menu by itself, but rather a graph or widget that immediately offers real-time data? Sure. Certain data from the system can now be displayed as graphs. You can even make a custom mix of inputs that give you information and buttons that open a screen that allows you to directly interact with that information. 
"You're not just altering the dashboard, but the very nature of how you're working with Agiblocks."
Perhaps a menu button you didn't know you wanted, or needed? You can drag any tile from a comprehensive catalog and add it to your dashboard. On many screens, you can add your own filter and use 'save' to create a new portal. Even tiles that are half the regular size can be added, so that you can play around with the available space and add whatever you need, in whatever size needed, creating a work environment to match your preferences. You're not just altering the dashboard, but the very nature of how you're working with Agiblocks.
The control you have over the dashboard is not limited to tiles either. You can add, move and remove tabs – Analysis, Extended, Settings – as well. Custom dashlets are easy, as you can now add a filter, save as a new dashlet and add it as a tile. You can create a dashlet for a smart list, share it with colleagues who can import it to their workspace by using the Tools tab. Moreover, when you're ready improving your Agiblocks dashboard, you can now export your fully realized personal workspace so that colleagues can import it to their dashboard. 
It is even possible to save the final result of all your (collective) preferences and adjustments and make it a company default setting. Which is to say, administrative users can import their preferences company-wide as the default workspace for all users.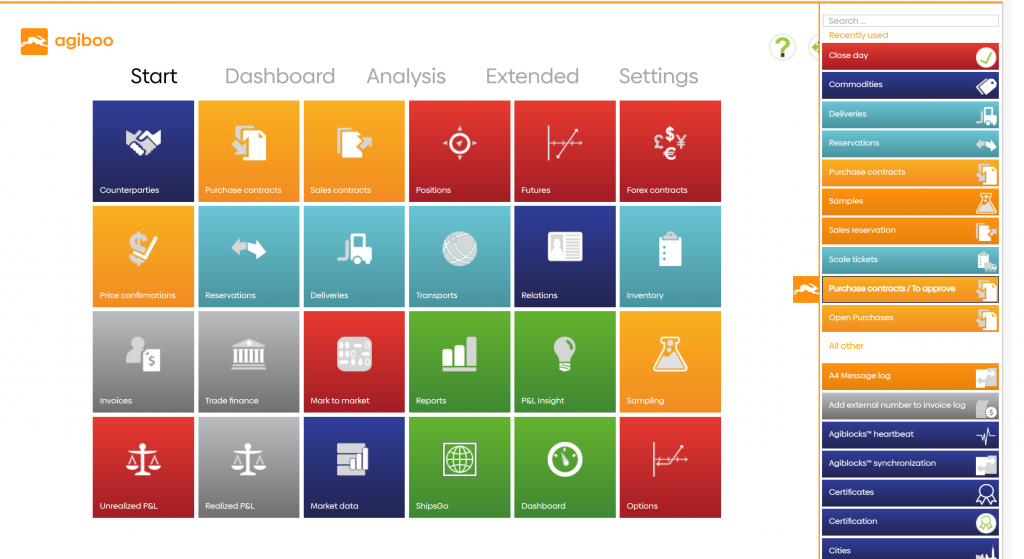 The accessibility of Agiblocks functionality has been greatly improved through the aforementioned catalog. That kind of already existed, says Joep, but it was hidden for most users. Which is to say, the design tool was only accessible to super admin users and saving changes was not an option yet, but it is now and it is available to everyone. 
The catalog and the Quick Launch Bar are two separate functions. The former lists all the products and functions, alphabetically, and is basically a sitemap of the entire system. The Quick Launch is accessible on any page, by clicking the Agiboo logo or by pressing Alt+A. 
It shows the 10 last used dashlets for fast browsing, but also offer a search bar to find any item needed. It supports arrow keys as well as a scroll wheel and can be navigated with Ctrl+Enter/Ctrl+click to open in a new tab. Features that require remembering multiple navigational steps can now be accessed directly. 
Thanks to the extensive possibilities of the Quick Launch, you can build very specific customizations and then optimize your daily flow even further. It might very well be the most valuable addition in Agiblocks 4.0, says Joep. In version 3.0 we've already introduced a new tile that could be assigned to a certain functionality of choice, but with the Quick Launch and the design mode, everyone is free to create their own panel.
We've already mentioned the fact that you can now import external content and assign it its own tile on the Agiblocks dashboard. In the catalog, under Tools, you can now find two new gems: Link and External. Both allow using external content within the Agiblocks dashboard. Link opens a new tab for a specified link, while External page embeds content.
It offers something completely new, and something that isn't provided by Agiboo, but rather by Big Wave BI: an external system for container tracking to follow shipments, plugged right into your system. Having the possibility to have an external feed added directly to the dashboard can be hugely beneficial. You can now import external reports from PowerBI while still working in the Agiblocks environment. You can even format them as tiles. Upload your data there, use design mode for alterations and adjust it to your preferences. 
We've chosen the Big Wave BI application, but the possibilities are endless. Indeed, Shipsgo integration for real-time container tracking is just the start, with freight rates being supported in the future as well. Moreover, it opens up space for third parties to add their products to the system. It might very well lead to an interesting "market place" for parties to get involved and jointly add product improvements. 
Down the line, something like an Agiboo Store, an in-app boutique for products like Container Tracking, might very well be a reality. It could introduce purchases on subscription basis or as one-off fees, in-app, allowing you to further optimize and customize your dashboard with external content like Container Tracking.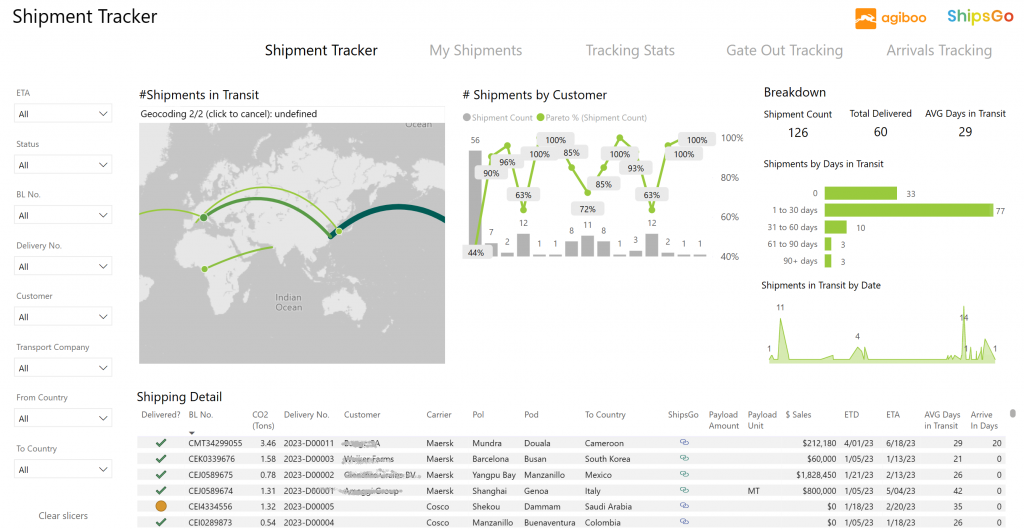 4. Document trail control
The world of commodity trading is fast-paced and unpredictable. Luckily, we are ready and able to overcome any challenge. For instance, Agiblocks allows configuring a set of "events" on each delivery, to track what was done, when, and by whom. Examples are status, transport, counterparties, delivery lines, and so on. Agiblocks users might need to present proof to their respective governments for all those steps, which should lead to a visible trail. Following a shipment from here to there, actual delivery, fees, taxes – et cetera. These step-by-step menus can now be used to track associated documents. 
For instance, you can now search by certificate, and check whether the required document is already added, or perhaps still missing. Filters allow finding deliveries with missing documents. What's more, you can now enforce that checked documents become a required field. Other configurable behaviors can be linked to it as well (e.g. to block the next step until the proper document is presented / uploaded). We can easily add new rules / pull-down functionality as well. For instance, you can create that 'for X to occur', 'Y must occur first'. You can build in that kind of configurable behavior. 'Execution' (delivery has taken place) can only turn 'green' if certain other conditions are also green (or aren't). As such, it's not an automation of the document trail, but rather a way to automate the control of that trail. 
Overall, it's an ongoing development to support and optimize processes. You can color in the needs as you build on, especially of larger companies, for example in the area of process control or in the case of staff shortages, where [new] employees do not know everything. The collective memory is slowly transferred to a piece of software. It becomes a specific process in which step by step the rules of the program must be followed. It kind of forces users into patterns, but in a good way, as the desired, optimal path can be shown. Of course, flexibility is desirable with respect to all the dynamics of the industry, but it's good to have structure as well. At any rate, Agiblocks has become that little bit more supportive of your daily needs, once again, with a hefty dose of added functionality, that can be tweaked and adjusted to taste, preference and organization necessity to boot!
Agiblocks 4.0: coming to a laptop, desktop, smartphone or tablet near you
We're currently in the final stages of implementing the fully realized versions of the new functionality introduced here. Full-scale launch will be within the month of June, but most of our clients will have access to the improved capabilities of the Agiblocks dashboard prior to that. In fact, most of the enhancements addressed here have already been part of both the Agiblocks implementation process at several new clients as well as the Agiboo demos for potential new members of the family. If you'd like to see for yourself, be sure to contact us and find out how we can improve your daily routine too. 
As trade margins have decreased and oversight increased, keeping costs down and minimizing errors has naturally become the focus of many commodity-related firms. There are many, many different aspects to deal with all at once – ranging from physical commodities, commodity trading and speculative trading to commodity logistics and finance and risk management. We've got you covered with Agiblocks, our flagship CTRM solution.