4th Annual Kingsman Miami Sugar Conference 2017
September 11, 2017

-

September 13, 2017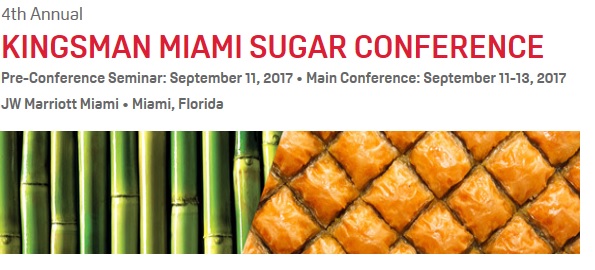 The Platts 4th Annual Kingsman Miami Sugar Conference gives you the information you need about the state of the sugar industry in the Americas. Building on the outstanding success of last year's event, this is a regional sugar conference designed especially for a North and South American audience.
This is part of a global conference series, with successful annual events in Europe and Asia as well as the newest Kingsman event in Miami.
You can also attend a one-day pre-conference Ethanol Markets Seminar, with discussion of fuel ethanol production and exports from the U.S., Brazil, and other countries in the Americas. Hear in-depth discussion and analysis of international trade and its growing role in balancing ethanol supply in North America, Europe, and Asia.
More details will follow soon, including full agendas and a list of speakers.
Simultaneous Translation Included—English/Spanish
All conference sessions include simultaneous translation, English-Spanish. Presentations and discussion will be available via earphones for all attendees at no extra charge.
An International Audience
This is a great networking opportunity, with over 200 attendees. Past delegates have represented over 30 countries from North and South America, Central America and the Caribbean, Europe and Asia. Attendees include major sugar producers, sugar mill owners, sugar buyers, sugar and ethanol traders, commodity analysts and investors, and others.