ISO Sugar, 25th International Seminar
November 29, 2016

-

November 30, 2016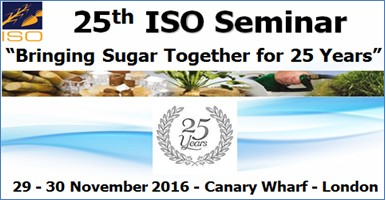 Bringing Sugar Together for 25 Years
This year the International Sugar Organization celebrates its 25th Silver Jubilee Seminar in London; little did it know that what began as a relatively small gathering would blossom and mature into a premier forum, gathering the participation of all relevant stakeholders in sugar and ethanol, addressing key issues and enriching the decision making of all ISO members, colleagues and friends.
The ISO is proud of continuing to organize this seminar and looks forward to the participation of everyone in making it enjoyable as well as productive and informative. For this prestigious occasion, the ISO's Executive Director, José Orive, will chair the event, striving to moderate with a proactive spirit and encouraging lively exchanges on the various topics in the program every effort will be invested to bring out the best in each presenter, with the objective of taking stock of the various viewpoints to produce conclusions that truly encompass consensus amongst professionals. Having sought to bring together the global sugar community for the past 25 years the ISO looks forward to continuing to do this for at least another 25 years!
Simultaneous interpretation will be provided in English, French, Portuguese, Russian, Spanish, German and Turkish.
Meet Agiboo in London at the ISO Seminar 2017 and have a view on Agiblocks commodity trade and risk management, now supporting White Premium trading for sugar.