In a nutshell, the newly launched 4.0 version of Agiblocks comes with 4 primary additions to our flagship CTRM software solution, addressed in our previous update:
• Organize your own workspace
• Quick launcher
• Document trail control
• External content 
Regarding the latter, we'd love to share an additional bit of news, as we've already entered into yet another new partnership to enrich your Agiblocks dashboard with selected external parties. More on that soon though. For now, we'd like to take a closer look at the potential that particular fourth improvement brings to our CTRM software. Because it is in fact the most significant innovation that Agiblocks has to offer since the very beginning.
"When we launched Agiblocks 4.0 this June, we've talked about the external content feature opening up space for third parties to add their products to the system", says Jan van den Brom, managing partner and co-founder of Agiboo. "It might very well prove to be an interesting "market place" for parties to get involved and jointly add improvements somewhere down the line, we said. The 'down the line'-part comes a lot sooner than anticipated, as we've almost immediately started talking to new collaborators. Because you might think that releasing a 4.0-version of a well-established software solution is merely an optical update with perhaps a few random new functionalities. You'd be wrong though…"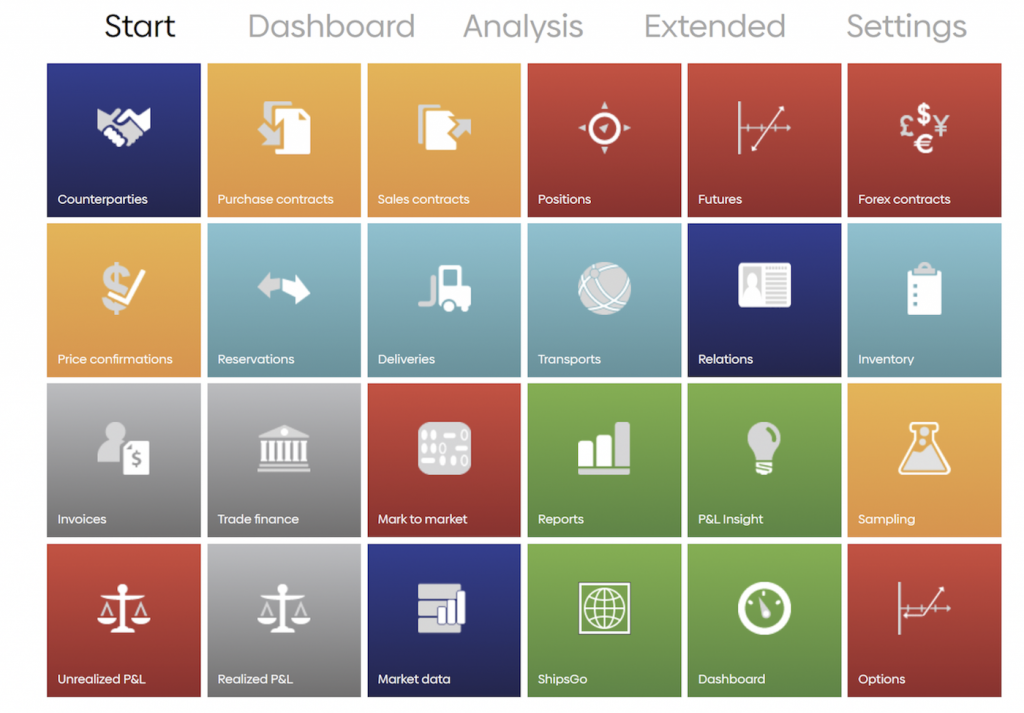 4.0, the magic number
Indeed, those who are familiar with ChatGPT's 4.0 version know how big of a disruptive leap it can be. Before last fall hardly anyone had heard of it. When OpenAI launched its 3.0-format, early adopters the world over were astounded by the possibilities of the flagship online software. What's more, the current ChatGPT-4 is one of the most powerful artificial intelligence programs in the world, capable of discussing anything. Now, people are taking notice. We're here to tell you, the launch of Agiblocks 4.0 has something similar in store.
Rest assured; we're not actually making the analogy here that we can compete with the prowess of the currently mega popular conversational chatbot. However, there is a strong similarity. We can explain through the example of Moore's Law, the one that says that the number of transistors on computer chips doubles approximately every two years. It is not a law of nature, but an observation of a long-term trend in how technology is changing. The machine learning capabilities at the very core of ChatGPT are hardly new. What is new, is that modern technology and specifically the calculating powers of modern technology have made it possible to have a solution like ChatGPT in your pocket: on a smartphone.
"Agiblocks too is finally coming into its own. Agiblocks 4.0 is not 'simply' an update of an existing solution. It is the disruptive solution as we've always envisioned it. Technology has finally caught up."
Beyond the dashboard
For those who have yet to catch up with the improvements in our latest version of Agiblocks, we'll gladly offer a quick recap. One of the major additions, if not the biggest game changer, is the fact that you can now import external content and assign it its own tile on the Agiblocks dashboard. You'll find two significant new tools in the catalog of features: Link and External. Both allow using external content within the Agiblocks dashboard. Link opens a new tab for a specified link, while External page embeds content.
"It's a major enrichment to the ecosystem", Joep Wijers, managing partner, CTO and co-founder of Agiboo, said in our earlier introduction of the new software features.
Having the possibility to have an external feed added directly to the dashboard can be hugely beneficial. You can now import external data while still working in the Agiblocks environment. You can even format them as tiles. Upload your data there, use design mode for alterations and adjust it to your preferences. "As Joep said, we're not just altering the dashboard, but the very nature of how you're working with Agiblocks", says Jan.
"We're going way beyond our initial Agiblocks dashboard, and into the realm of a truly multi-purpose platform. A platform where the integration and connection of all those data entries will eventually allow you to automate the entire trade chain. It's not only the future of Agiblocks, but the future of commodity management."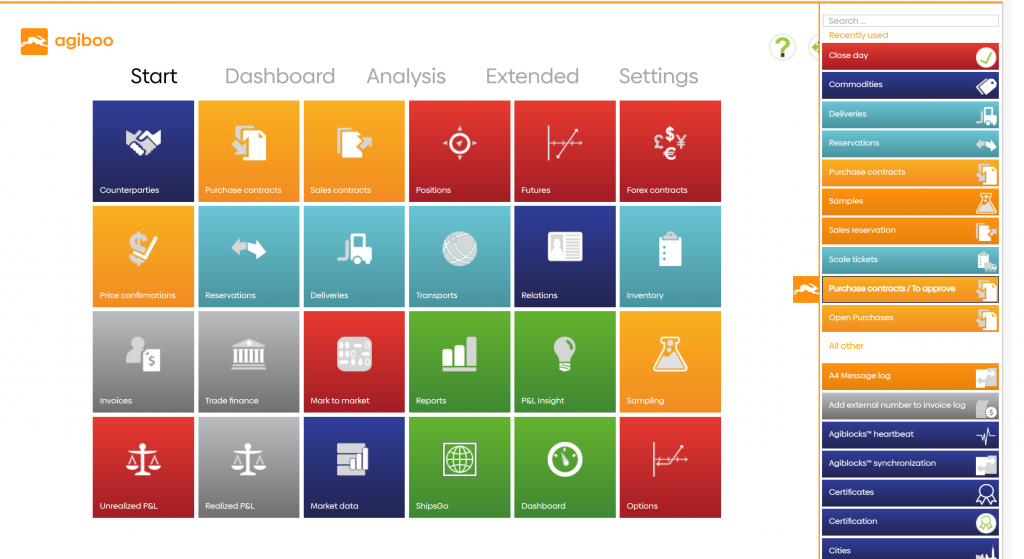 Access All Areas
"The Big Wave BI application and its ShipsGo integration for real-time container are just one example of the extension of our ecosystem", he continues. "We're working with FinanceAgri to bring Sitagri Infinite's data on futures prices directly into the Agiboo CTRM solution, to unlock the international cash market, derivatives, options and spreads of major agricultural exchanges. We're working on supply chain management – for instance, tracking which shipment of cacao comes from which farmer. We're looking at bill of lading, because that's also coming – from procurement all the way to delivery, it'll just be a few clicks."
"These are merely examples. We're talking about the integration of basically any relevant service that has an application programming interface (API, a set of functions allowing the creation of applications that access the features or data of an operating system or service). In the future, there will be integration of certifications, sustainability, inspection (SGS, Veritas), insurance (AON), you name it! It's completely unique. It is going to affect a lot of things in the industry. From finding sellers and setting prices to freight, executions, hedging – it will all be fully automated within five years. In fact, traders will have to start thinking about their role and adapt to these not-too-far-away future possibilities."
True market disruption
Now, none of the aforementioned services are unique. In fact, you can find all of the online and take out a subscription to whichever one you need. "What is unique however, is that Agiblocks now offers a platform where you can have all of them in one place together with all the data that are relevant for your transactions. It's truly innovative, bringing all these variables and services together. Agiblocks 4.0 is designed to be the connector."
A decade and a half ago, a lot of people already had a smartphone, a digital camera and an iPod or similar mobile audio player. The iPhone in 2007 wasn't about introducing new functionality as such. It was about launching a new piece of technology that for the first time combined existing tools that we use for some of the most popular customs and habits; browsing the internet, photography, listening to music – anywhere and everywhere. It might have been an expensive, at the time quite luxury piece of technology, but it came to replace a lot of individual solutions. As such, it wasn't exclusive – it made these solutions accessible. To everyone."
To keep with the Apple analogy, all the tools, services, functionalities and add-ons we can integrate in your Agiblocks dashboard will finally be in one place. It will change the commodity trade industry as a whole. "That's not some marketing lingo. Traders will for sure have to reflect on their roles. For years, there has been a trader in the middle of all the processes, who had all the connections, could arrange everything, keep lists, have contact with shipping companies, what time and where, et cetera. That's all going to come together very quickly now. That trader is going to live in your pocket, just like the iPhone does."
"The new potential of Agiblocks 4.0 is why we're doing it, why we started Agiboo 15 years ago. Technology has caught up to our vision. Just a few months ago, we spoke about it being a steady solution rather than a disruptive technology. Well, it's disruptive now!"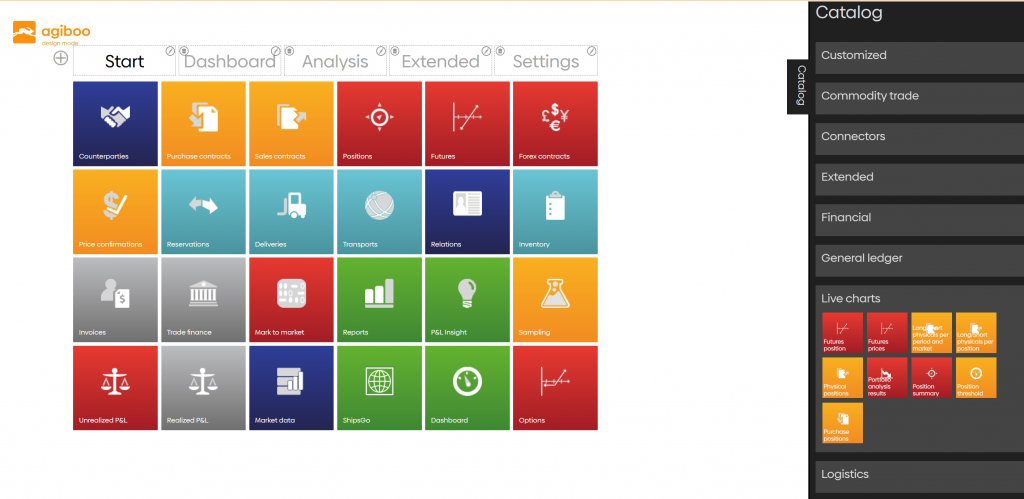 Agiblocks 4.0: try it out
The fully realized versions of our new functionality is already available, as gradual implementation for several of our clients has been followed by a full-scale launch of Agiblocks 4.0 over the last month. If you'd like to see for yourself, be sure to contact us and find out how we can improve your daily routine too.
As trade margins have decreased and oversight increased, keeping costs down and minimizing errors has naturally become the focus of many commodity-related firms. There are many, many different aspects to deal with all at once – ranging from physical commodities, commodity trading and speculative trading to commodity logistics and finance and risk management. We've got you covered with Agiblocks, our flagship CTRM solution. Request a free demo here.