Never a dull moment at Agiboo. Whether it's welcoming a great new member to our family through a successful implementation of Agiblocks, the launch of new features or the arrival of our latest tutorial, we're always finding new ways to improve upon our flagship software solution. We now mark a big step on that path, as we've got some great news to share: we're partnering up with Tradesparent, the renowned specialist in Risk & Margin Management, for a proposition that offers a textbook 1+1=3 scenario.
Tradesparent is a Software and Data Engineering company providing a data consolidation and service platform for risk & performance management, planning & analytical processes. It arises from a need for transparency in organizations actively trading and processing commodities. Through an integrated data solution, it aspires for companies to unlock the full potential of their data by bringing simplicity, consistency and transparency to daily financial and physical operations.
They do so most notably in the Food & Agri trading and processing industry. The compatibility between the Agiboo and Tradesparent was therefore obvious from the getgo. It is also perfectly complementary – Agiboo is very strong in CT, whereas Tradesparent offers advanced risk management (RM) tools way beyond the scope of Agiblocks, among other benefits. Let's talk about what that means for risk management in the commodity trade industry.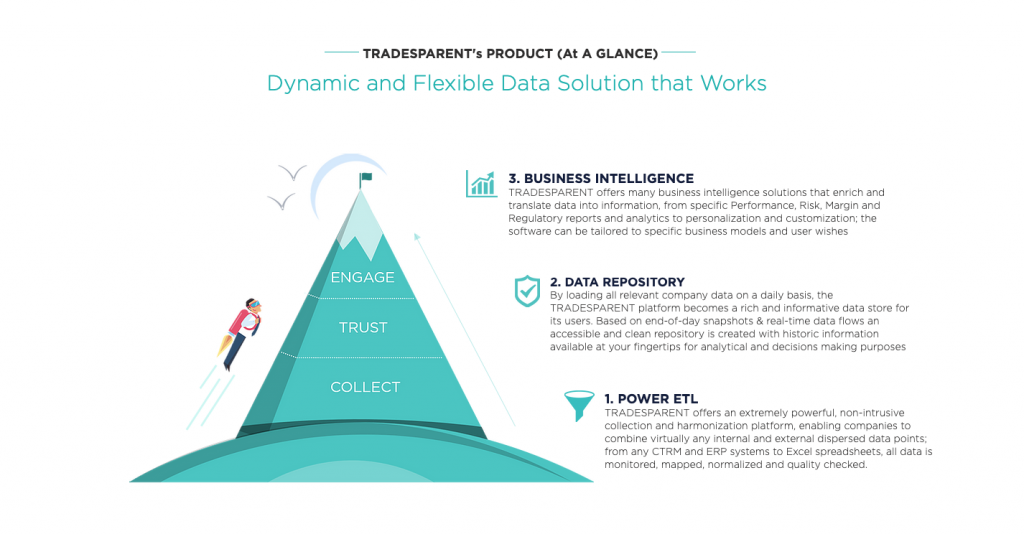 It's no secret Agiblocks is a CT-solution first and foremost, as it was designed by trade professionals, for trade professionals, to simply their daily practices and make their fixed routine more efficient. Yes, it focuses on risk management as well, and yes, there are some great tools for market analysis – such as the aforementioned new features (OTC contracts and What-If Analysis). Tradesparent does not focus on CT and is by design always reliant on integration outside CTRM or ERP solutions – which every company in our business already has, whether it be Agiblocks, Brady, SAP or whatever.
RM is where Tradesparent really shines though, through its exposure modeling capabilities with sophisticated risk metrics that enable prediction of performance volatility under complex market conditions. Tradesparent offers real-time VaR, stress testing to limit structure and option analytics.
Furthermore, data ingestion and normalization are their core strengths. Risk management through best-of-class data management is why companies come to Tradesparent – and why they stay. By combining forces, we can share knowledge, expertise and supporting capacity and offer a one-two punch of best-in-class CT as well as RM, in an intuitive and well-equipped data hub that allows for the easy integration of any other data solution you might use.
The Tradesparent Approach: Collect, Trust and Engage your Data
Tradesparent is an integrated Data & Analytics Solution with its roots firmly in the commodity trade and processing industry. Data gathering – the Community Data Hub – is the real USP of the system, as it is not only unique to the Agri business, but also specifically designed for it.
It easily and quickly unifies, collects and harmonizes any type of business data from CTRM, ERP, finance systems or excel spreadsheets and broker statements across all business levels (mid, front and back office) into one single source of truth data repository for faster and enhanced reporting and analysis.
It can export the data to any system but mainly offers a full suite of business solutions for users, based on industry knowledge and experience to help companies comply with regulations, provide thorough volume and risk performance reporting and enhance forward margin and yield forecasts.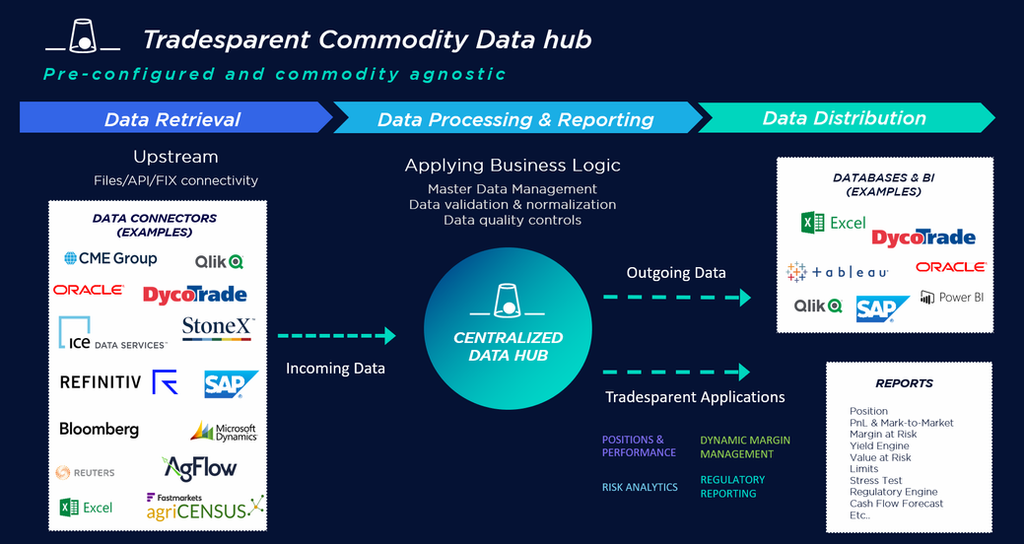 Tradesparent offers a tangible tool to steer your digital transformation forward, by communication key metrics in a consistently, accurate, timely and transparent fashion.
As such, they can play a key role in integrating existing CTRM solutions into one single source of data. For instance, a company that counts on Agiblocks for all its CTRM-needs in the sugar trade while using OpenLink for their division in the oil industry, can through Tradesparent aggregate and align both in one straightforward, integrated data and analytics solution. It's very customary for Agiboo clients to have another CTRM as well. They are usually tied together in systems like SAP, Sage or Oracle, which is an obvious solution for data integration. However, these systems lack the risk management prowess of Tradesparent. And that's where we see the benefits.
Thanks to our shared proposition, Tradesparent can take in existing Agiboo customers who already have a great solution for their CT needs in place, and improve upon the RM-part in a single source solution. Moreover, through their means of data integration we can provide them with all the best tools that cover a broad spectrum of other business needs – such as regulatory reporting, compliance reports and dynamic margin management.
The potential benefits are huge; greater control over their data, more risk metrics to satisfy the banks and the board, and a variety of tools providing beneficial outcomes from operational efficiency and business alignment to profit maximization.
And that's not all. The benefits for new clients of either company are even greater: if we combine our offering, we can greatly reduce company efforts and costs in the selection process for that next one-stop solution. As an added bonus, we offer shared support to guarantee successful implementation.
Apply for our pilot program now
We often come across companies and portfolios who want to find new tools for RM and reporting, but are also looking for a better CTRM. Tradesparent has that very same experience, which is why many of their clients have more than one CTRM. It's also why they have worked together with other software solution providers in the past.
It would be great to have an initial launch of our effort by talking to current Agiblocks users who are interested in upgrading their risk management tools and wish to have their data in one single source of truth. We'd like to offer a pilot program for our joint solution which doubles as a business case for future clients. Together we would like to find out what your next step would look like. Please contact us to talk about these new possibilities!