These past 18 months have been a major challenge for the commodity industry (as for any other industry), in which we've seen rapid changes. The pandemic and all of its implications notwithstanding, the world of CTRM systems has seen an increasing need to adapt to ever-developing markets. Technology has been at the forefront of many of those adaptations.
As our managing partner Jan van den Brom put it earlier in 2021 when asked about some of the more notable drivers of change: "I believe that containerized microservices and edge computing is the major technology disruptor as it brings the availability, security, usability and integration experience to the next level. It will disrupt the CTRM market, but also any other technology bound to support commodity business." Let's reopen that topic and discuss technology as a factor in choosing a new CTRM solution. Or, more specifically, why technology can easily be a factor in choosing Agiblocks.
Containerization
Containerization perfectly supports the aforementioned microservices concept: small and fast services providing a well-defined capability, built around reliability, low-latency and low-cost. A logical development from microservices is serverless: massively scalable and reliable components that are the ultimate in services computing efficiency. Anyway, the point here is that buyers are increasingly looking for the scalability and flexibility of the cloud. The technology stack is becoming part of the selection criteria again. It is even rapidly become a high-priority item, while buyers know what technologies they want.
In Agiblocks, we use Kubernetes (or K8s) as its open source software allows us to deploy cloud-native applications anywhere and manage them all exactly the same. Kubernetes handles the work of scheduling containers on a cluster while also managing the workloads. The key focus of K8s is to have software development and operations working together, so task management and performance are a huge part of the architecture and design – which we can obviously appreciate. Moreover, it offers several of the same benefits we strive for in Agiblocks – which coincidentally are some of the more important criteria for software selection as we'll discuss in the following paragraphs.
For now, let's quickly look at the benefits of Kubernetes. K8s offers huge scalability potential, as its ability to run containers on one (or several) public cloud environment(s), in virtual machines or bare allows you to deploy it almost anywhere. Deployment which in turn is made easier and faster for companies taking advantage of multiple cloud providers, allowing for growth without readjusting architecture. Moreover, as Kubernetes has drastically innovated said architecture as well as development and deployment, you can scale a lot quicker than you might be accustomed to, while its high availability at both the application and the infrastructure levels ensures accessibility and continuity.
Availability and flexibility
There has been a trend towards greater flexibility in CTRM software solutions for a while now. Not too long ago, only the big firms could have it all in terms of scalability and flexibility of software solutions, as they had the time and resources to build their own platforms. Thanks to the modern approach of CTRMs as an ecosystem as well as the availability of cloud service, those previous luxuries are now commonplace.
Furthermore, Agiboo has decided years ago to migrate CTRM architecture to easily accessible cloud services, while platforms on client/server or Java.net need to seriously rewrite their software to keep up with the times. The system architecture has been developed in a specific and flexible technology stack to allow superior performance in both a hosted environment and a traditional on-premises arrangement. With web-based access and a modern user interface, working with Agiblocks offers a fluid experience that people expect in today's web and mobile environments.

Its modular structure and innovative database allow for flexibility when dealing with complex commodity trading processes. The data structure allows customization of different commodity characteristics, so that one Agiblocks system can be used for multiple types of commodities. Agiblocks consists of a suite of functional modules from which you can build exactly the CTRM you need. Because you are completely free to define your business logic, it will always fit your processes. Agiblocks will interface with your ERP or accounting system (e.g. SAP, MS Business Central, JD Edwards) or other software in your current landscape. It is perfectly scalable and will grow with you, both in functionality and scale of operations.
Furthermore, while a lot of companies talk about the cloud, usually that just implies their systems are in the cloud and not on on-location servers. With Agiblocks, you can actually work from the cloud. You get to quickly keep up with developments and, more importantly, you can work from anywhere; at the office or on the road, at home, on any device that has a browser. It's extremely user-friendly.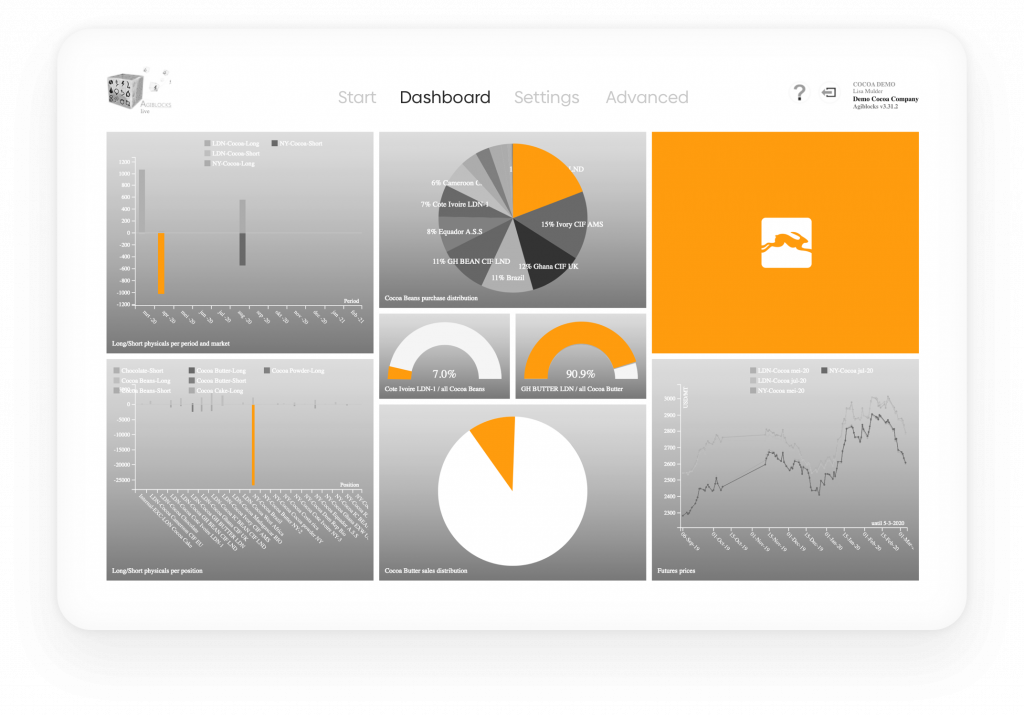 Usability and features
Agiblocks is as intuitive as you can imagine. Wherever you are, you can directly select your next transaction, insight or report, or drill down into your transactions, without using drop-down lists or even a keyboard. Just with a single mouse click or tap of your finger. Easy to implement and to adapt
The commodity environment is always changing, especially with all these rapid adjustments and adaptions, creating new and different business challenges every day. Can you afford to have your CTRM limit your business opportunities? Agiblocks can easily accommodate changes in your business or your commodity portfolio. Now, we understand the switch to a new software system can be a long and difficult process. A serious obstacle, especially for software that is as core to your business as a CTRM system is. Agiblocks can easily be configured to your commodity environment. Its intuitive user interface and complete adaptability makes the transition painless and easy. It is so adaptable that you can perform the most common modifications yourself, without external help, thus retaining the pace you're accustomed to! Everything you need, anywhere, anytime. But don't just take our word for it: let Albrecht & Dill be your guide in choosing to implement Agiblocks!
CTRM solutions as an ecosystem
We've mentioned the ecosystems-based approach. It's a concept that's never far away when you talk to any of the industry veterans in the commodity trade. Where are we in terms of standardization of protocols and interoperability? Is the ecosystems-based approach the most efficient implementation strategy? What are the major difficulties in creating a single-source solution? Is getting that real-time, end-to-end reporting layer and multiple levels of input the greatest challenge?
During ComRisk last month, it was debated whether or not the era of standard CTRMs is over, as we are moving into custom solutions. What is obvious at any rate, is the fact that technology is – once again – at the forefront of all those challenges, solutions and adaptions. One of Agiboo's strengths in handling change has always been relying on that technology. Finding new ways to improve our own software, such as the continuous efforts to add new possibilities, but also finding increasing benefits to our end-users by working together with other flagship solutions. That means finding new ways to too – whether it be integrating with ERP solutions, offering ongoing tutorials, collaborating with companies like FinanceAgri and their tremendous Sitagri Infinite platform, exploring the possibilities of Microsoft Power BI, connecting with OneCore Global, or providing custom connectors for Agiboo and MS Business Central.
Our mission, in other words, is to keep improving – because there's always room for improvement. That's why we've struck another partnership. We'll be partnering up with Tradesparent, the renowned specialist in Risk & Margin Management!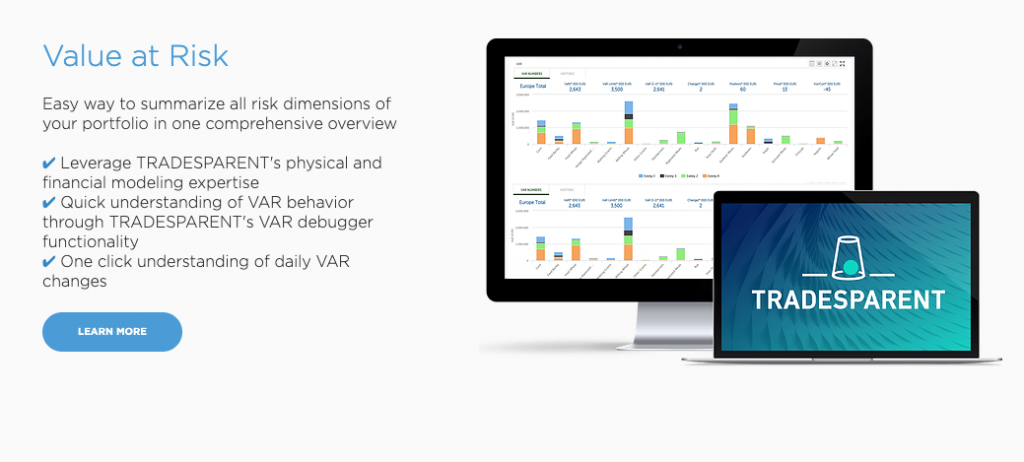 Agiblocks supports hedge operations with futures, options and forex. Everything you see is always up-to-the-minute. You can drill down in your combined physical and derivatives position, but also in your Mark to Market valuation, the latter based on real-time market data. The automated (un)realized Profit & Loss functionality provides a grip on your P&L, consolidated by entity or by commodity. The sophisticated Value at Risk engine specifies your exact risk exposure against your own risk metrics. However, the world of Risk Management is still much, much bigger than that. And Risk Management is where Tradesparent really shines, through its exposure modeling capabilities with sophisticated risk metrics enable predicting performance volatility under complex market conditions. Tradesparent offers real-time VaR, stress testing to limit structure and option analytics. Furthermore, data ingestion and normalization are their core strengths.
They offer a best-of-class solution – just how we like it. By combining forces, we can share knowledge, expertise and supporting capacity and offer a one-two punch of best-in-class CT as well as RM, in an intuitive and well-equipped data hub that allows for the easy integration of any other data solution you might use.
Stay tuned, we'll tell you more about it soon!